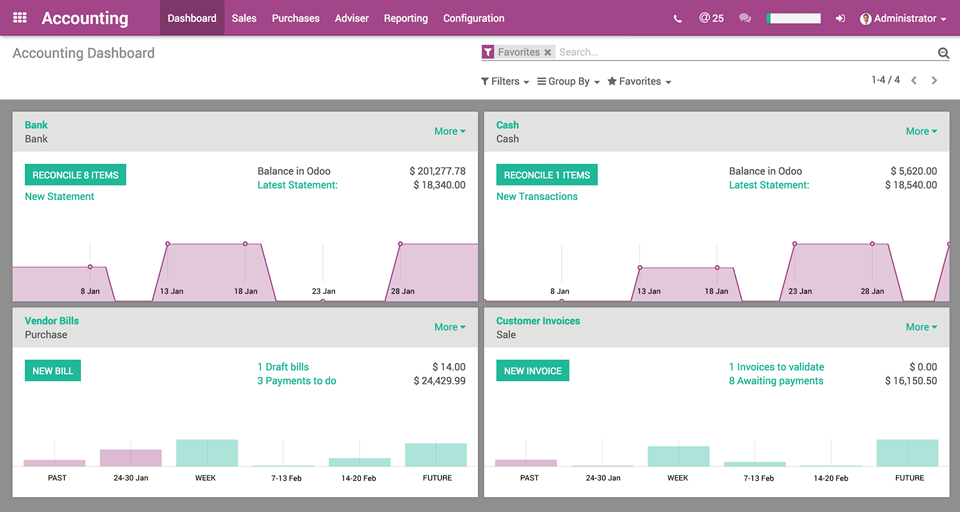 Financial Management Software
Non-coding financial management and budgeting software to automate business processes operations. Design, run and modify workflows for all kinds of approvals, accounts payable and expenses management. Empower non-technical users to modify workflows on-the-fly, without having to solely rely on IT and suffer delays.
Financial Management for Forward-thinking CFOs
The award-winning ICSC financial management software solution helps organizations of all sectors to streamline and automate their finance processes, embbed the best-practice operation and to improve business visibility, compliance and corporate governance. The functions of our solution include:
Accounting
As the original single-ledger, global accounting solution, our Solution is a modern and multi-everything accounting system for even the most diverse or complex enterprise requirements that incorporates functionality to meet your general ledger, accounts payable, accounts receivable, fixed assets, billing, project accounting and most other typical financial reporting requirements.
Spend Management
Our Solution' end-to-end spend management helps a company establish controls and consolidate purchasing activity, and positions it to leverage the full buying power of the organization.
Requisitioning
Purchasing
Cataloging
Receiving
Invoice matching
Consolidation & Cash Management
Our best-of-class solutions for multi-company and international organizations deliver group accounting, statutory reporting, intercompany netting and cash planning more quickly, simply and consistently.
Budgeting, Planning & Forecasting
We combined the flexibility of our financial model with the familiarity and convenience of Microsoft® Excel®, to streamline the seeding, preparation, fine-tuning and production of budgets.
Reporting & Business Intelligence
The vital foundation of a robust, flexible information model and a full array of reporting and BI tools to help all your different users report on, model and analyze your business – in the ways that they need.
Process & Control Automation
Our Coda Link architecture includes a powerful control management framework, tying other systems, manual processes and authorizations into one visible and auditable process flow.
Integration & Web Services
Companies can no longer compromise – they need great operational applications and great financial systems. This best-of-class integration approach has been a hallmark of Our Solution from its very beginnings.
Our Architecture
The integration architecture is second to none, using modern techniques such as web services and XML to provide secure, real-time integration to your other operational systems.
Supported Platforms & Languages
Our Solution co-exists with other applications, without imposing a particular technology or architecture. It also enables simultaneous multi-lingual access to the same, single finance system.
Would you like to know of Our Solution software? Prefer to speak to us and have your questions answered by one of our friendly, knowledgeable team?