5 Ways the Digital Supply Chain Drives Success for Life Sciences
As life sciences companies transform their systems and processes to enhance innovation, remove cost, and respond to regulatory and market forces, a more flexible and progressive supply chain ecosystem becomes a business priority. The digital supply chain incorporates digital technology and intelligent devices to provide visibility, connectivity, mobility and big data insights across the value chain.
There are five strategic ways the digital supply chain creates an advanced, productive and cost-efficient business model.
1. DIGITAL SUPPLY CHAIN ENABLES REVENUE ENHANCEMENT.
Maintaining high-value product at multiple points in the supply chain is costly. To combat this, companies need to move away from a resource-intensive, inside-out or internally driven model where all activities connected with the supply chain are wholly owned and operated by each company, to an outside-in approach.
2. DIGITAL SUPPLY CHAIN ENABLES FLEXIBILITY.
As personalized medicine, personalized care and globalization push the industry from a stock-based model to a real-time, order-based approach, companies must find ways to build fast and responsive supply chains.
3. DIGITAL SUPPLY CHAIN ENABLES TRANSPARENCY.
A digitized platform provides real-time visibility and transparency to the supply chain, letting companies know exactly where each piece of inventory is at any point on the path from producer to consumer.
4. DIGITAL SUPPLY CHAIN ENABLES TRACEABILITY.
An important element of transparency is traceability, or the ability to know precisely where a product has been on its way to the appropriate endpoint and when it safely arrives.
5. DIGITAL SUPPLY CHAIN ENABLES SECURITY.
By digitizing and moving information to an electronic platform, companies gain enormous opportunities to streamline the supply chain, drive out process errors and improve oversight — but they also open themselves up to information leakage and security holes.
This position paper looks at the supply chain of the future and the industry transformation that needs to happen.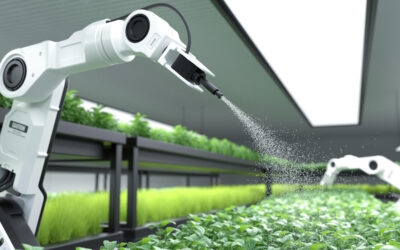 Agriculture contributes to less than 5% of the global economy but more than 25% of employment. The sector faces the triple challenge of feeding the growing population, providing livelihoods to farmers, and protecting the environment. Technology-driven farming will be...